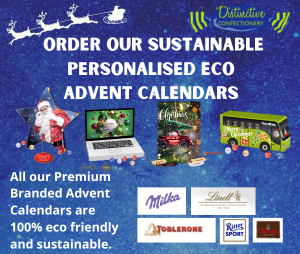 Eco Friendly Promotional Products
Choose from our range of delicious and planet conscious products. All of our premium branded chocolates: Lindt, Milka, Ritter Sport and Sarotti are climate neutral as well as being from sustainable and fair cocoa farming projects. The materials are recycled and FSC certified.
Our premium branded Advent calendars and Eco Friendly Advent Calendars mean you can show you care about the planet whilst making a long lasting impression with your client as the calendar sits with your client throughout December with a tasty chocolate each day
Our eco friendly products include 100% biodegradable products and plastic free, also PLA plastic replaced options. All of these options are made with reduced materials.
We also have some Fairtrade chocolate options.
Browse Products
Sustainable Promotional Products
Our selection of eco friendly promotional products is the perfect addition to any marketing strategy for businesses that are conscious of waste and non-recyclable packaging and products.
The benefits of eco friendly promotional products not only show in your act towards helping the planet but clients will also appreciate that you've considered the type of product you're sending them.
With the growth of sustainable products clearly on the rise, many businesses have made the change. From fashion and beauty and now to food, your customers and clients can still enjoy luxury chocolate but with both sustainable cocoa farming and biodegradable and recyclable packaging*.
*Please check the logos represented on product images to understand the individual components within the product.
For more information on our sustainable promotional products, please contact our team today.