Published: 2 February 2017
For twelve months of the year, your customers are the ones who help to keep your business a success. With this in mind, why don't you consider giving them a surprise this Valentine's day?
Ok, this may be the time where loved ones show just how much they love each other, but it is also a time where you can show your customers just how much you appreciate them and their commitment to your brand.
Valentine's Day is the perfect time to use personalised gifts to make customers feel like you appreciate their custom but to also make a good impression by creating a bond with them. By personalising your Valentine's Day gifts, you are also strengthening your brand by aligning yourself with brands known for their high quality products such as Lindor.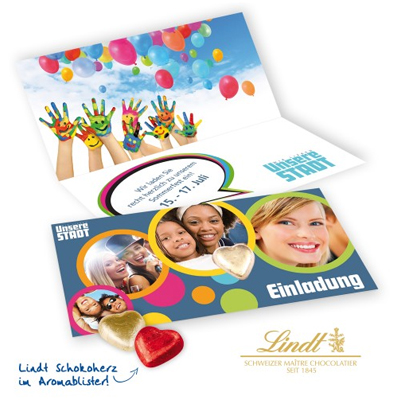 Why should you provide them with a gift?
You are a business person who understands just how important your customers are to the success of your business. While it is always great to have new customers, the best form of new business is from existing customers because they appreciate, understand and already know just how good your products or services are.
A promotional product or gift is all about giving something back. It is your way of saying thank you. Unlike other businesses, who say thank you with a card, there are other ways to offer something different this will help to cement that bond between you and your customers, personalised Valentine's Day chocolates help to create a long-lasting impression that makes your customers feel wanted.
Your customer database is the place to start. This list will allow you to identify those customers that make up the majority of your profits; of course, these are the ones you need to thank. However, you will also need to look at those customers who may have returned to your services several times but need a small reminder that you appreciate their continued custom. Choosing to send a promotional, branded gift could be the little push that they need to spend more with your business.
So what do you need to consider?
Ideally, you need to look at how long they have been a customer, the longer it is the more you should say thank you, although that does not mean you should ignore those who have been customers for a shorter period.
Those customers that bring in additional business are also important. Have they mentioned your business online? Have they recommended you to other businesses or individuals? All of these questions come into play and how you answer them can help you determine just what gift you can give them this Valentine's Day.
You may be in the business-to-business industry or you may deal with customers on an individual basis but whatever it may be, you have to make your gift look like it is a gift and not just a way of convincing them to remain a customer of yours. Products like our personalised box of printed praline chocolates or our Lindor personalised present box would make a fantastic gift to show that special client how much they mean to you.
So, you may be wondering how much you should spend?
In truth, it is not about the price it is about the quality and message that the promotional gift conveys. You want the gift to tick all the boxes but you also want it to represent your business.
You have several options such as our Personalised Lindt Business Presentation Gift Box which could be ideal for businesses with a number of staff as everyone will be able to benefit from your promotional gift.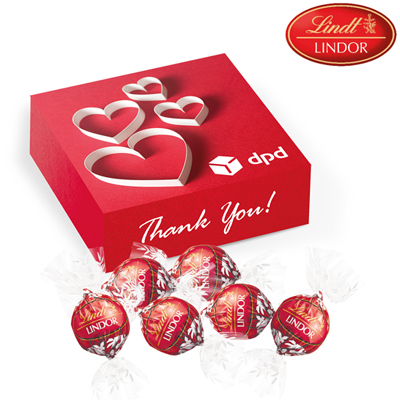 For individual customers, perhaps a personalised Lindt Heart Greeting Card will make them feel appreciated or a personalised heart shaped tin with heart shaped mints which they can take everywhere with them.
Whatever, you choose to give as a gift, you will need to consider who you are giving it to and the message that you want to deliver. Whichever way you look at it, you have to get it right because it can help you to retain customers and gain new customers, both of which are crucial to the success of your business.