Published: 17 December 2019
The advent calendar has evolved from simple chalk marks on doors and lit candles to luxurious gifts hidden behind (not just paper) windows. As the Advent word itself is Latin for 'coming', it appears shoppers these days are waiting for the time when they can start shopping for their next luxury advent calendar.
What types of Advent Calendars are now on the market?
According to a 2018 survey based on 2000 people by GlobalData, a huge 73% of buyers still planned on purchasing chocolate advent calendars, where as only 13.5% of those surveyed would be buying a beauty advent calendar.
This also rings true if you were to look at Google's predicted value for terms such as Chocolate Advent Calendar which from the date range of 17th – 23rd of November comes out at a value of 75.
Previous data suggests it will easily reach the 100 mark as it continues to be a traditional favourite.
Although our main advent calendar collection is chocolate, we were fascinated to understand what other advent calendars are being introduced into the market. If you dig deep enough, you'll find an array of different advent calendars from candles to socks!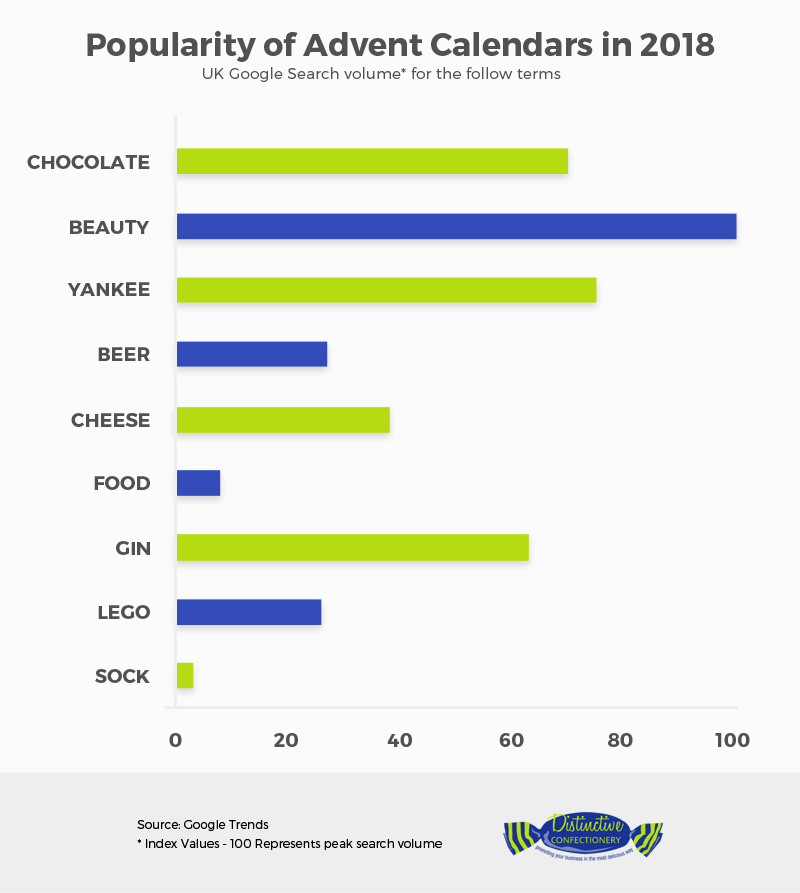 Beauty Advent Calendars are making their mark on the industry
If you haven't noticed (where have you been?) beauty advent calendars are taking the market by storm. The growing industry; which is currently valued at $532 billion (£411 billion), is starting to overtake chocolate advent calendars, especially when it comes to search popularity.
From the graph below, Beauty Advent Calendars took the top spot against chocolate advent calendars in 2018 and have kept their position so far in 2019. It's no surprise as big beauty brands (and even beauty influencers) release their own beauty advent calendars.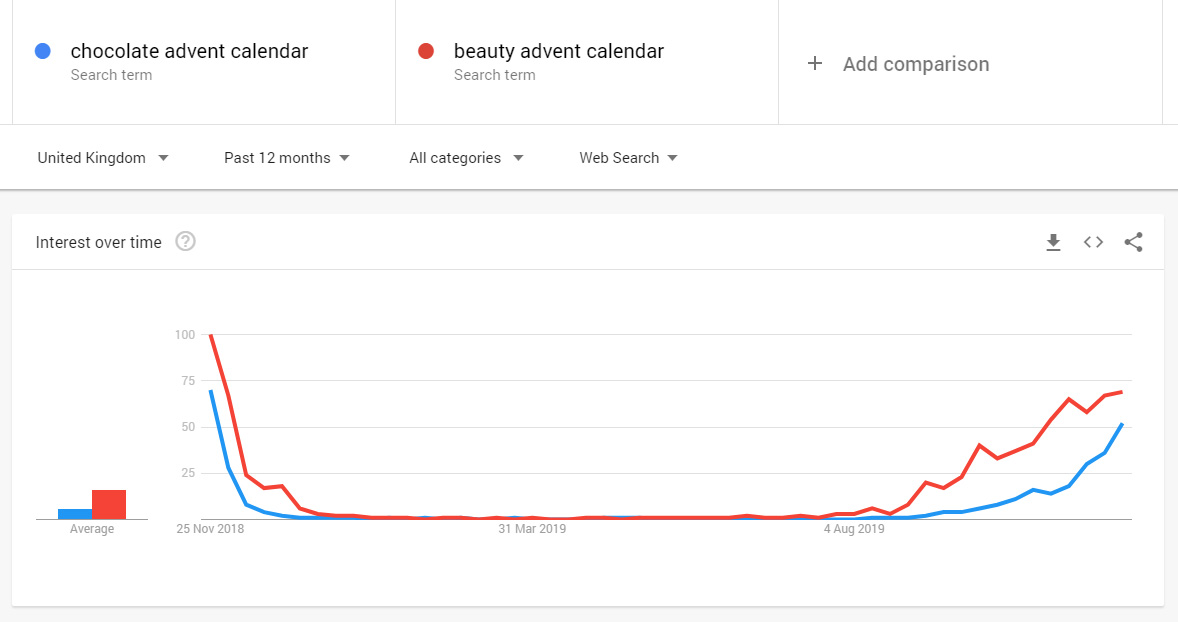 Our furry friends are also part of the fun
Yes that's right, advent calendars for your pets. It's not new and as Google Trends shows us below, more and more dog owners specifically, want to get their best friend an advent calendar to help them celebrate the festive season.
Cat owners on the other hand don't appear to be having the same success as dog owners, cats are fussy eaters and perhaps cat owners don't treat their pet the same way as dog owners – would you buy a matching jumper for your cat? Possibly not, but you might for your dog.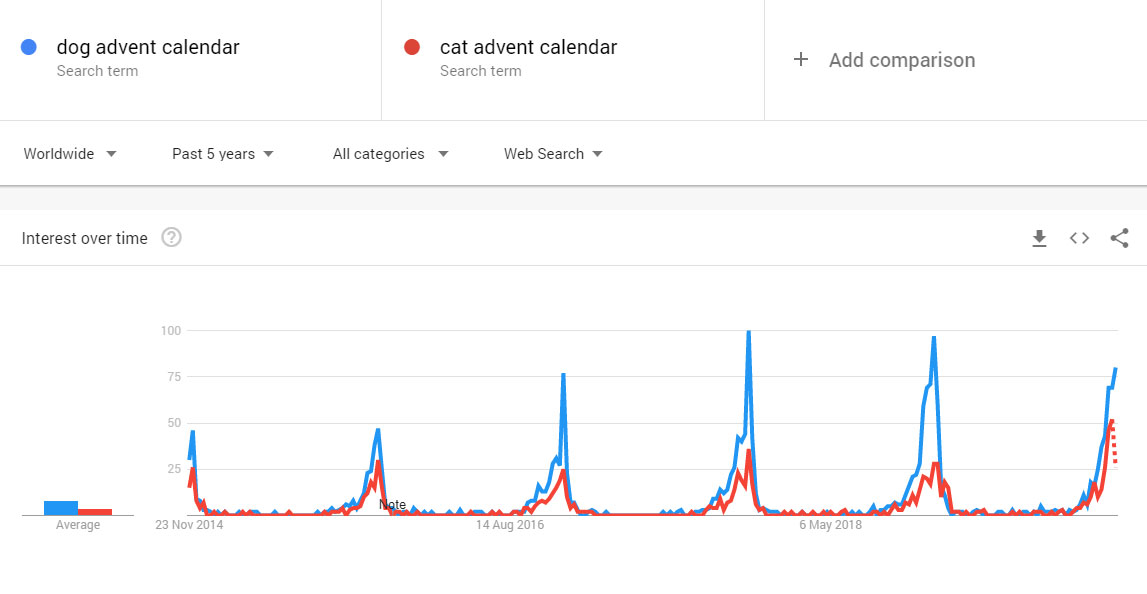 Advent Calendars aren't just for children
It appears advent calendars are growing up. They're not just for kids anymore as new advent calendars that are being introduced appeal to an adult audience.
Alcohol advent calendars are gaining more and more popularity, especially the gin kind, which saw a huge increase of search volume from 2016 to 2017 and has continued its steady growth ever since.
What about the old classics?
If you were to buy a chocolate advent calendar, what type of chocolate would you choose? When comparing data, it appears dark chocolate has took a huge leap forward in popularity and not just in 2018, but throughout the past decade.
That's not all, white chocolate has also seen an increase in popularity over the years, which some claim it could be down to many people choosing to be vegan and gluten-free, which white chocolate can cater to.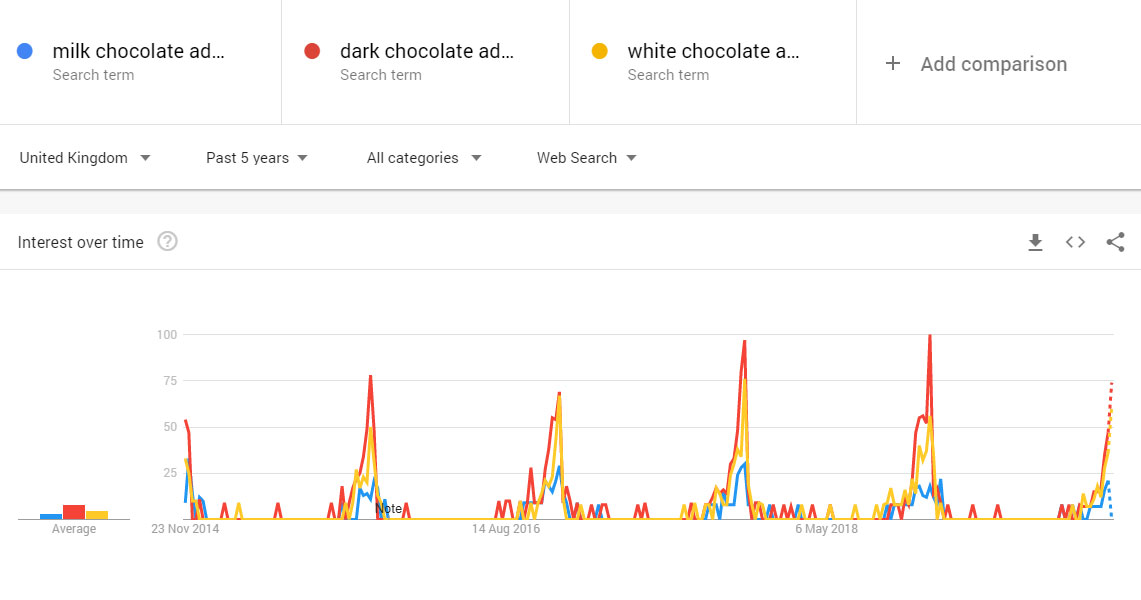 Perhaps in this instance, most consumers would assume an advent calendar would already be made from milk chocolate and so if you wanted something more specific, you would change your search from just advent, to dark advent for example.
If that's the case, the data completely changes.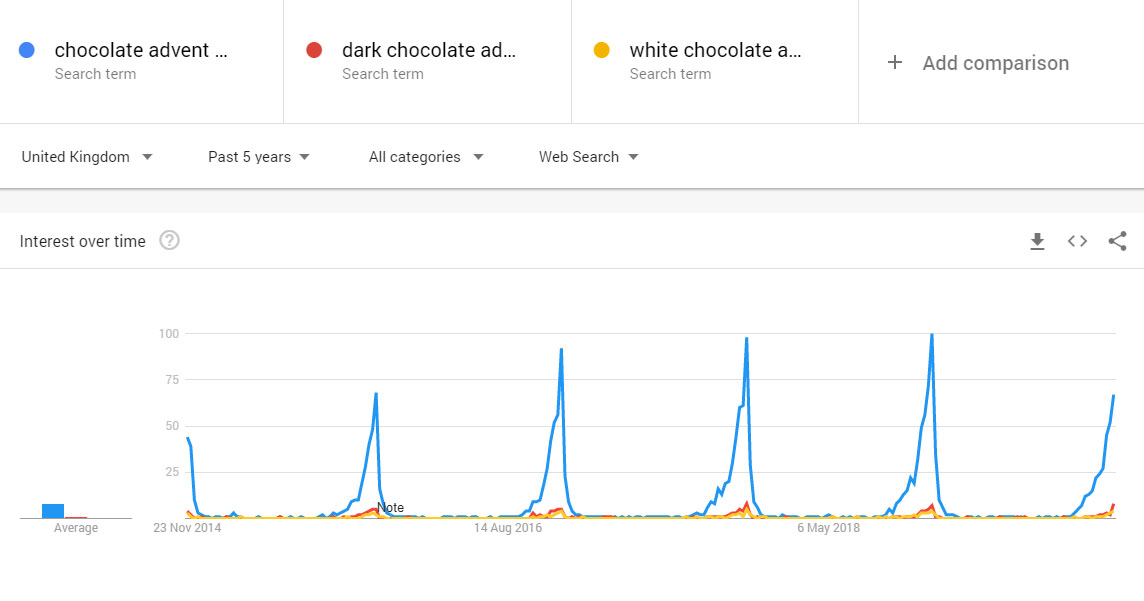 Which Advent Calendar will you be buying?
Based on all this data, it's clear the advent calendar market is evolving. Consumers want to enjoy a more luxurious experience and that means something different. From luxury beauty brands to international beers and gins, our advent calendars are calling to a different target audience.
If you want to give your customers and clients a festive experience around Christmas time, we have a range of personalised advent calendars with a range of customisable options for branding and personal messages.
We can also provide businesses with eco-friendly advent calendars and the luxury of Lindt advent calendars.