Published: 19 December 2016
A great way of preparing for the festive season is to join in with the international countdown to Christmas Day. Waking up to a small treat or a verse of positivity each day is not only a great way of getting into the festive spirit, but also a refreshing way to start your day on a good note.
Here at Distinctive Confectionery, we have a wide range of advent calendars that your business can use in order to increase brand awareness. We offer a variety of choices to businesses that are interested in a personalised advent calendar, including many different brands of chocolate and styles of calendar.
Promotion through Brand Association
Some of our most popular advent calendars are in our Lindt range and these work very well as all our Lindt calendars come co-branded so you can have your company logo alongside the Lindt logo, which can create a powerful message through brand association - by aligning yourself with a prestigious company such as Lindt, who have been known for excellence since 1845.
Many of our Advent Calendars can be posted in mailing boxes at the price of a large letter. This makes your gift as easy as sending a mailshot, yet far more effective!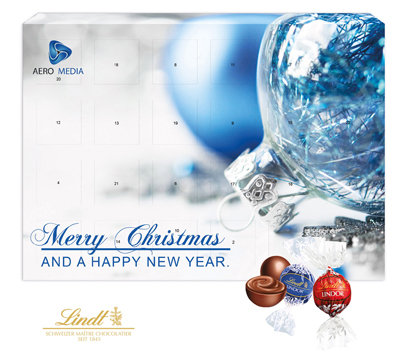 Our range of personalised advent calendars
We have a completely bespoke range of Lindt Advent Calendars that can be produced in any cut out shape of your choice, you can promote your brand with a star, a train, an airplane – the sky really is the limit!
Some of our most popular Lindt Advent Calendars are novel in style: such as the Advent Book Calendar, the Advent Calendar Cube, the advent truck calendar, the Advent House Calendar, the Advent desk pyramid and also the new circular shaped advent calendar.
Many of these are perfectly sized and shaped for the office desktop or reception desk, creating a fun and eye catching feature for anybody lucky enough to have one.
Personalise Every Aspect of Your Calendar
We also offer unique opportunities to really push brand awareness by printing personalised artwork, such as your company logo, onto a variety of different templates, and even the ability to print behind each individual window, meaning that you can display a direct message to anybody that has your calendar.
We also have a range of promotional Advent Calendars where the chocolate can be moulded with your own logo or design, creating a really unique opportunity to promote your brand to the client.
So now let's go through the history of advent calendars and how they have developed into such a key part of the festive period as we know it today...
What Is 'Advent'?
Advent is a four-week period beginning on the Sunday nearest to the feast day of St. Andrew the Apostle, on 30th November, through the following three Sundays, and it is believed that this period has been celebrated since as early as the fourth century.
The word "advent" itself originates from the Latin word for "coming"; in relation to the fact that Christmas is coming soon. Advent calendars are used as a way of celebrating Christmas being near, and for that reason don't precisely follow the period of Advent.
Instead, they start at the beginning of the supposed festive season, on the 1st of December, in order to celebrate the following 24 days in the build up to Christmas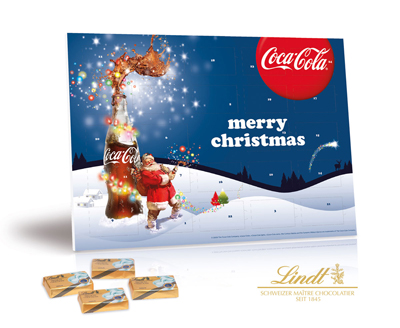 Where does the tradition come from?
The tradition of advent calendars comes from the mid 19th century, when German Protestants made chalk marks on doors or lit candles to count down the days that lead up to Christmas.
It is believed that Gerhard Lang produced the first printed advent calendar in Germany after his mother had given him an advent calendar with little sweets stuck onto cardboard.
Each day up until Christmas, Gerhard would take a sweet to celebrate another day passing by, which inspired Gerhard to produce the first printed advent calendars with coloured pictures.
As time went by and into the 20th century, Advent calendars progressed to have little cardboard doors that would open up to bible verses, Christmas pictures or small sweets.
Over 30 designs had been produced by Lang up until the Second World War when cardboard was rationed and supplies were short, causing the production of printed calendars to be forbidden.
Modern Day Advent Calendars
Fast forward to life in the 21st century, where Advent Calendars are a huge part of the build up to Christmas as we know it, and the traditional calendar that would open up to reveal a message or verse, is now a thing of the past.
Character and branded chocolate calendars, holding a small chocolate treat for you to enjoy, are now more prominent within shops, supermarkets and online stores as a way of appealing to more people.
In the United Kingdom, there is often a less traditional approach to Advent Calendars where there is 31 doors to open, which includes the festive period, but also sees out the remainder of the year.
Advent Calendars as a Commercial Tool
Advent calendars are a great commercial tool to be used around Christmas time as it can tie in peoples interests and likes with their celebration and anticipation of Christmas. Character calendars focus on the design of the exterior, using themes of celebrities or cartoon characters and peoples interests such as sport, movies or music.
Branded calendars are usually from popular chocolate brands, where they focus on their delicious product taste and people's love for that specific chocolate.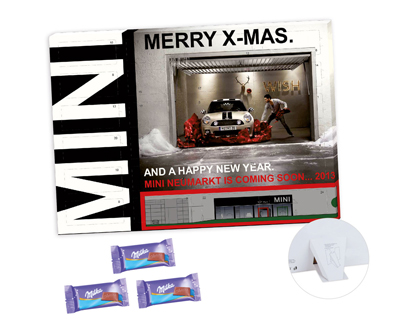 Advent Calendars as a Promotional Tool
Advent calendars are also a great promotional tool for businesses to use. Whether it's for their customers or their staff, a bespoke advent calendar featuring a companies' logo and corporate branding can make a lasting impression on the recipient and can have far more impact than traditional promotional items such as pens, mugs and key rings.
As advent calendars tend to last for the whole month of December in the countdown to Christmas, they allow for a whole month of positive brand promotion when compared to a single throwaway item of promotional confectionery, keeping businesses in the mind of their customers for the entire festive season.
Christmas Gift Boxes and Chocolate Coins
If Advent Calendars aren't your thing, we have a range of branded Christmas chocolates such as our Christmas Lindor gift box, our Lindt Christmas presentation box, our Lindor Christmas pyramid box and the Lindor Christmas house gift box complete with Lindt Santa.
For something a little different, we also have a range of personalised chocolate coins and medallions that can also feature your corporate branding.
If you would like to find out more about our promotional product range, browse our selection of personalised confectionery or contact our team who are happy to answer any of your questions!