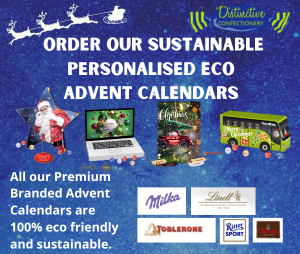 Advent Calendar Artwork Guidelines
All Calendars can be fully printed with your own artwork, or simply choose from one of our standard designs and your logo and message can be printed onto this!
Fully Bespoke Advent Calendars
Once you have decided on the calendar you would like to order you should request a template.
Simply place your artwork onto the template and return this along with your order for proofing by our printer. You will also be requested to confirm the traceability address for the calendar.
You will receive a printer's proof for this and then be asked to confirm that all is correct.
We will print your artwork as supplied by you and approved on your final proof.
This is a very important stage as this is the final image of how your calendar will appear, so all aspects need to be looked at, and checked carefully, in particular, if you are printing behind the windows, that the messages are each placed onto the correct numbered window.
Please note that once your final printer's proof is approved you cannot make any changes to your artwork or to the volume ordered.
PLEASE READ THE GUIDELINES CAREFULLY THAT ARE SENT ALONG WITH YOUR TEMPLATE.