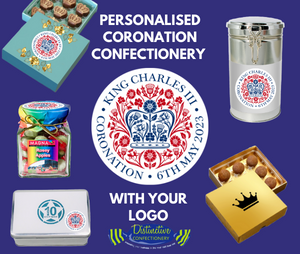 Kings Coronation Confectionery
Mark your diaries from the 5th- 7th May for the Kings' Coronation and why not do it in style with our promotional coronation chocolate and confectionery.
At Distincitve Confectionery, we have a range of coronation confectionery which can be personalised with your business logo and artwork, alongside the Kings' Coronation emblem.
Browse Products
Mark this occasion in style with our branded Coronation chocolate
We are home to a range of popular branded confectionery, which includes clotted cream, fudge, luxury biscuits, salted caramel crowns and more!
Don't forget to take a look at our personalisation options. Choose from any of our products and showcase the King's Coronation emblem, in addition to your own company logo, added to your choice of custom chocolate or sweets for your clients and customers to enjoy.
There's no better way to mark this occasion than gifting your staff and customers to some promotional Coronation themed treats!
We pride ourselves in providing businesses with a large selection of our finest Platinum Coronation biscuits, chocolate, and other confectionery treats. We also have a wonderful selection of packaging options so you can treat your clients in style.