Published: 18 April 2018
The FIFA football world cup is something that brings people together across the globe, whether they're supporting their nation throughout the tournament or simply just admiring the beautiful game as a neutral.
This summer, between the 14th June and 15th July, the world will cast its eyes towards the host nation Russia, with every fan hoping that their team can provide moments of joy that will keep the tournament in their memory for years to come.
From watching the games at a local pub to staff gathering around a television at their place of work, the world cup is something that appeals to an extremely large amount of people, and this presents an excellent opportunity for businesses.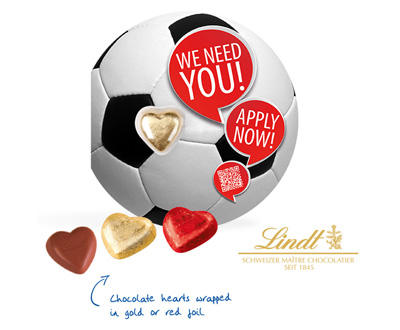 With such a wide ranging and diverse audience to cater to, businesses can use this year's World Cup to their advantage, marketing their business in a way that can only really happen every couple of years when a major football tournament rolls around.
Using Confectionery to Market your Business
Although often overlooked and underestimated as a marketing tool for businesses, confectionery is actually a very effective form of marketing, and can unlock doors in ways that many other forms of marketing may not be able to.
Aside from being a fun and light-hearted way to market a business, confectionery is being used by more and more businesses each and every year, as a genuine way of appealing to a mass market.
Within the UK, everybody likes to enjoy some form of confectionery at least every now and then, and businesses are cleverly catching on to this and using it to their advantage. Whether to be used at events, in meetings or even at your own premises, confectionery can make a great first impression on your customers and a lasting impression they will remember you for!
Appealing to the Emotion and Passion of Football Fanatics
Football is a very big part of the lives of many across the world, and that fact applies to the UK just as much as any other country in the world, if not more so.
The UK's home nations are well supported, and England is even home to arguably the biggest, most popular and most entertaining football league in the world. With this in mind, it is no surprise that emotion and passion is a big part of football, displayed by all kinds of fans and expressed in many different ways.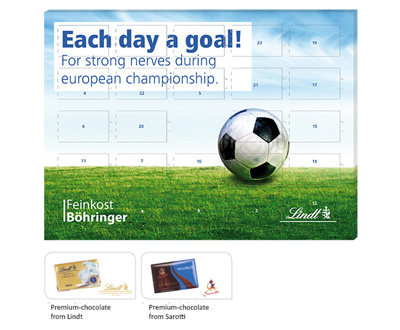 With so much interest and passion involved within the sport, there is no surprise that businesses are able to take advantage of it. Such passionate fans are likely to be very excited for when the date of the opening game finally arrives, and so playing on that and providing people with reminders of the tournament in the form of confectionery is a very good way to build a connection.
Branded confectionery is fantastic for leaving a lasting memory of your brand imprinted on the minds of whoever receives it, helping to create a better connection with people through your mirrored love of the beautiful game.
How to use Football Confectionery
There are a number of different ways that you could use our football confectionery, depending on where you are going to be distributing it and who is likely to receive it.
One of the most popular ways to use football related confectionery is to offer World Cup based offers and promotions, adding a little treat to sweeten the deal and push your business even further.
With branding on the packaging and a beautifully tasting treat, people are sure to remember your business even throughout their football-filled summer!
Another effective way to use our great products is, depending on the type of business that you run, you could hold a World Cup themed event, showcasing your work, providing potential customers with more information about your products and services, or simply just as a way of getting your name out there.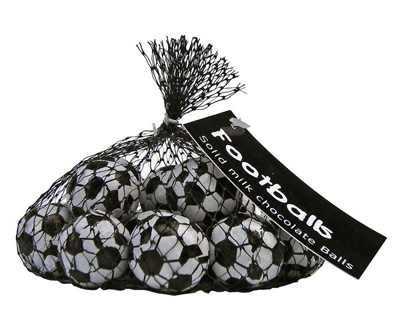 Encouraging your staff to get in on the fun too is always a good way to help your business, and combining sweet treats with something that they are sure to be interested in is a great way to do this.
We find that one of the best ways to get your staff involved with sporting events like a World Cup is to present them with one of our fantastic football countdown calendars, which are a fun way of helping them to keep track of when the tournament will start.
Although the calendars are likely to spark a few football based conversations every now and again, the positives of team bonding and the boost to morale are sure to outweigh the negatives.
Our Top 5 Football Confectionery Products
We have a range of fantastic football confectionery products for you, your staff and your customers to enjoy, and here is a selection of our own personal favourites:
1. Lindt Football Countdown Calendar
2. Football Nets with Personalised Tags
3. Lindt Football Themed Personalised Business Card
4. Promotional Football Mini Candy Pack
5. Football Mini Jelly Sachets
We have a range of fantastic products here at Distinctive Confectionery, designed specifically to promote your business and help you to reach a wider audience.
The World Cup is a major sporting event broadcast across the world, and the interest in the event is something that different businesses are capitalising on in a variety of ways.
Contact us today to find out more about our football confectionery range or to arrange for a free product quotation.